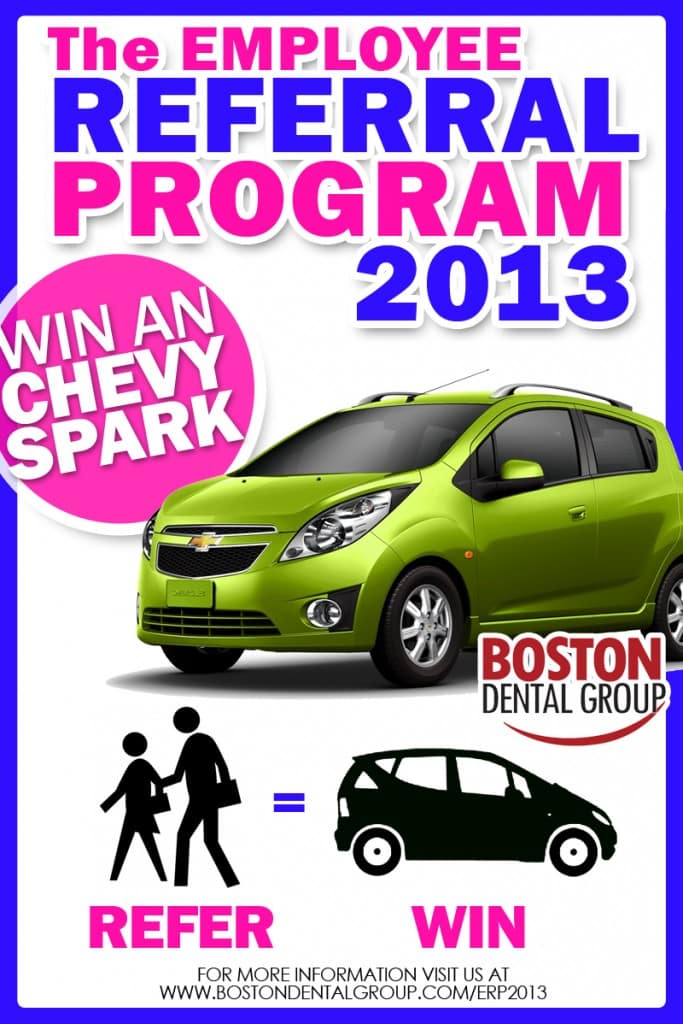 Employee Referral Contest 13'
Each Employee will receive 100 "Free Exam and X-Ray" cards to hand out every month in 2013.  Any new patients that  schedules an appointment and comes in to their initial appointment with your card and does any treatment other than the free exam and x ray will count towards your total referred new  patient count. For every 12 new patients that you bring in and does same day treatment, you will receive one raffle ticket, for a chance to win a brand new car!
So…
12 new patients = 1 Raffle Ticket
24 new patients = 3 Raffle Tickets
36 new patients = 5 Raffle Tickets
48 new patients = 7 Raffle Tickets
And so on…
The more raffle tickets with your name on it, the better your chances are to win! If 12 patients sound like a lot, just think of it as bringing in one new patient a month!  The employee with the most patients brought in will also will a new iPAD! (Remember you will also benefit by increasing your bottom line with every referred patient!
Restrictions:
Patient MUST has your card when they come to the office to count for you!
New Patient must complete some sort of treatment when they come in on the first visit. So just getting the "Free Exam and X-Ray" does not count!(This will prevent people from having friends and family come in for just the free offer in order to help the employee win)

Some Exceptions:

Specialty Services that cannot be completed that day (ortho, oral surgery etc)
Not enough room on that days schedule, must be re scheduled and perform treatment that month to be counted. Please make note of this on the ERP tracking grid and dentrix.
All cards must be handed out outside of the office, handing cards to new patients inside the office is strictly prohibited and will result in disqualification and disciplinary actions as we see fit.
Employees will have to be employed when the contest is over to qualify, so if an employee is terminated or resigns before the contest ends, he/she will not be eligible to win any prize.
We must bring in a minimum of 140 total new patients, companywide for there to be a winner and for this contest to be valid.
The employee who brings the most amounts of patients will win an IPAD.  However, if this person's name is drawn as the winner for the new car, the IPAD will be reassigned to the employees who brings the second most amount of patients.
This  program's restrictions/regulations can change during the competition to the management's discretion.
(BA's and OM's Only)
How to Record:
Collect Card when new patient comes in

Write down patients name on the ERC tracking grid
When treatment is complete please enter the total treatment of the patient for that day
Drop Card into your Employee Referral Program Drop Box
How to Post:
For Dentrix tracking of appointments made specifically for our new Employee Referral Card you'll need to use the following steps:
Schedule patient for Comp Exam and X-rays, or limited exam if it's the patient has a toothache and does ot wish to have a full exam. Zero out the fee for this visit for cash and insurance patients.
Attach "referring employee – employees name" to Referral Source
Once patient comes in use your "ERC Tracking log" to enter patients name and referring employee, production.