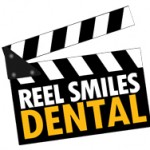 Welcome to Reel Smiles Dental
Reel Smiles Dental
7785 N. Durango Drive, Suite #140
Las Vegas, NV 89131
Phone: 702.987.8668
Fax: 702.987.8669
Website: www.ReelSmilesDental.com

*Individually owned and operated

Working Hours

Monday: 9am-5pm
Tuesday: 10am-6pm
Wednesday: Closed
Thursday: 10am-6pm
Friday: 9am-5pm

Dr. Luis Salazar

Dr. Salazar graduated Summa Cum Laude and received his Bachelor of Science degree in biological sciences from UNLV. Thereafter he graduated Magna Cum Laude and received his Doctor of Dental Medicine degree from UNLV School of Dental Medicine.

"Leave your fears behind while we take a little journey. We'll begin with your smile and finish with total body health. I'm not here to judge or criticize. I'm here to educate and serve. I know first-hand what it's like to be weary of the dentist. I was 17 years old and somewhat dentally neglected when I first saw a dentist. It was a life-changing experience. Come for a visit and I'll tell you all about it." – Dr. Salazar
The world of dentistry is an ever-changing landscape with new technology, materials, and techniques that allow for the restoration and maintenance of a healthy smile in ways never before possible. Dr. Salazar is a life-long learner and stays up to date with continuing education courses in all aspects of dentistry including; endodontics, oral pathology, oral surgery, pediatric dentistry, orthodontics, periodontics, and prosthodontics. Dr. Salazar will work closely with specialists if necessary to restore even the most difficult cases.
On his days off he enjoys taking his family to the movies, taking long walks, and catching up on his favorite television shows. His favorite movies are Back to the Future, Braveheart, and The Shawshank Redemption.